//Midnight Notes and NEPA News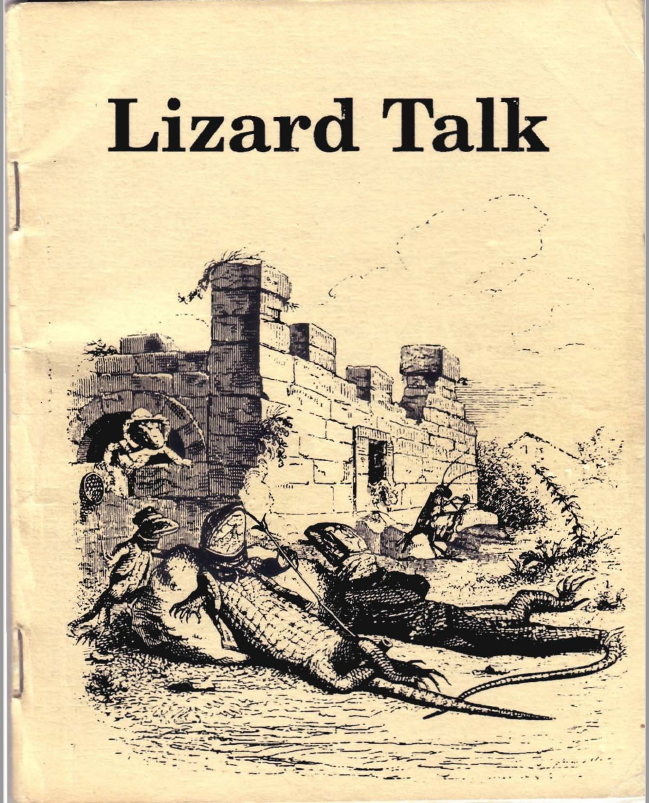 This Archive log springboards off a rare pamphlet published by US Marxist group Midnight Notes to discuss historical and contemporary pandemics via collections related to Midnight Notes, NEPA News and ACT UP, linking prison abolition, health activism, anti-racism, anti-nuclear and housing struggles.

The collections can be found here:
Mignight Notes
NEPA News


Midnight Notes were a US-based group international of writers and activists who from the late-1970s to the early-1990s collectively published an extraordinary journal covering emerging global class struggles around wages, debt, energy, the environment, land and housing and gendered and racialised repression driven by a powerfully open Marxist analysis. In this irregular pamphlet, issue 9.5 in the series of Midnight Notes, Peter Linebaugh, the author of <'Lizard Talk'> proposes the groundswell of AIDS activism catalysed by ACT UP and other organisations as part of a continuum of struggles against the 'macro-parasites' (the ruling classes) and 'micro-parasites' (preventable contagions) empowered by pandemics. Opening with a birthday message to the militants of ACT UP, the pamphlet seeks to link AIDS to global struggles through the prism of new forms of activism then redefining, health, illness, sex, race and access to medicine and secure housing.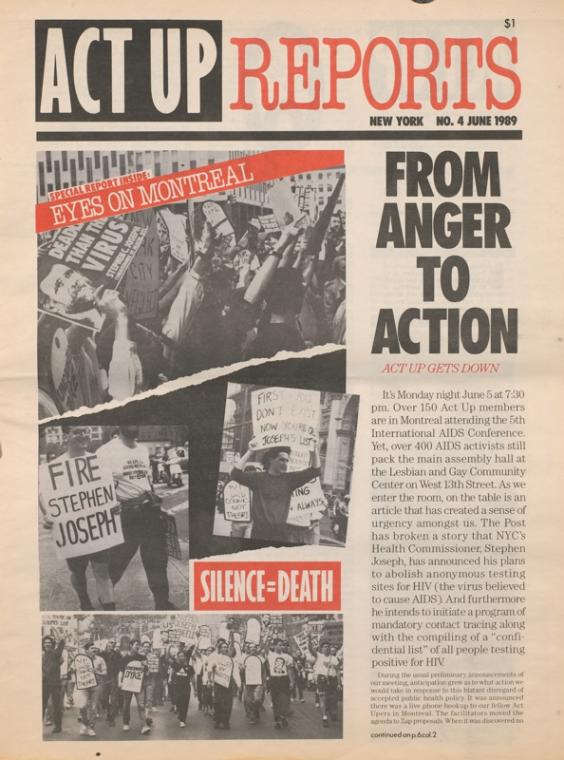 over ACT UP Reports, No.4, June, 1989

Midnight Notes frequently used images of pestilence, plague and apocalypse to capture the planetary scale of capitalism's onslaught against both people and planet, deploying Albrecht Dürer's woodcut, The Four Horsemen of the Apocalypse (1497/1498) as the frontispiece to a notable response to capital's 'Work/Energy Crisis' at the end of the 1970s. During a period in which capitalism's stooges presented barriers to social development as 'naturally' based in the scarcity of fossil fuels and 'necessities' of population control and third world underdevelopment, Midnight Notes responded by forcefully denaturing this crisis as one with 'work' and its refusal by an increasingly antagonistic working class and social field at its centre.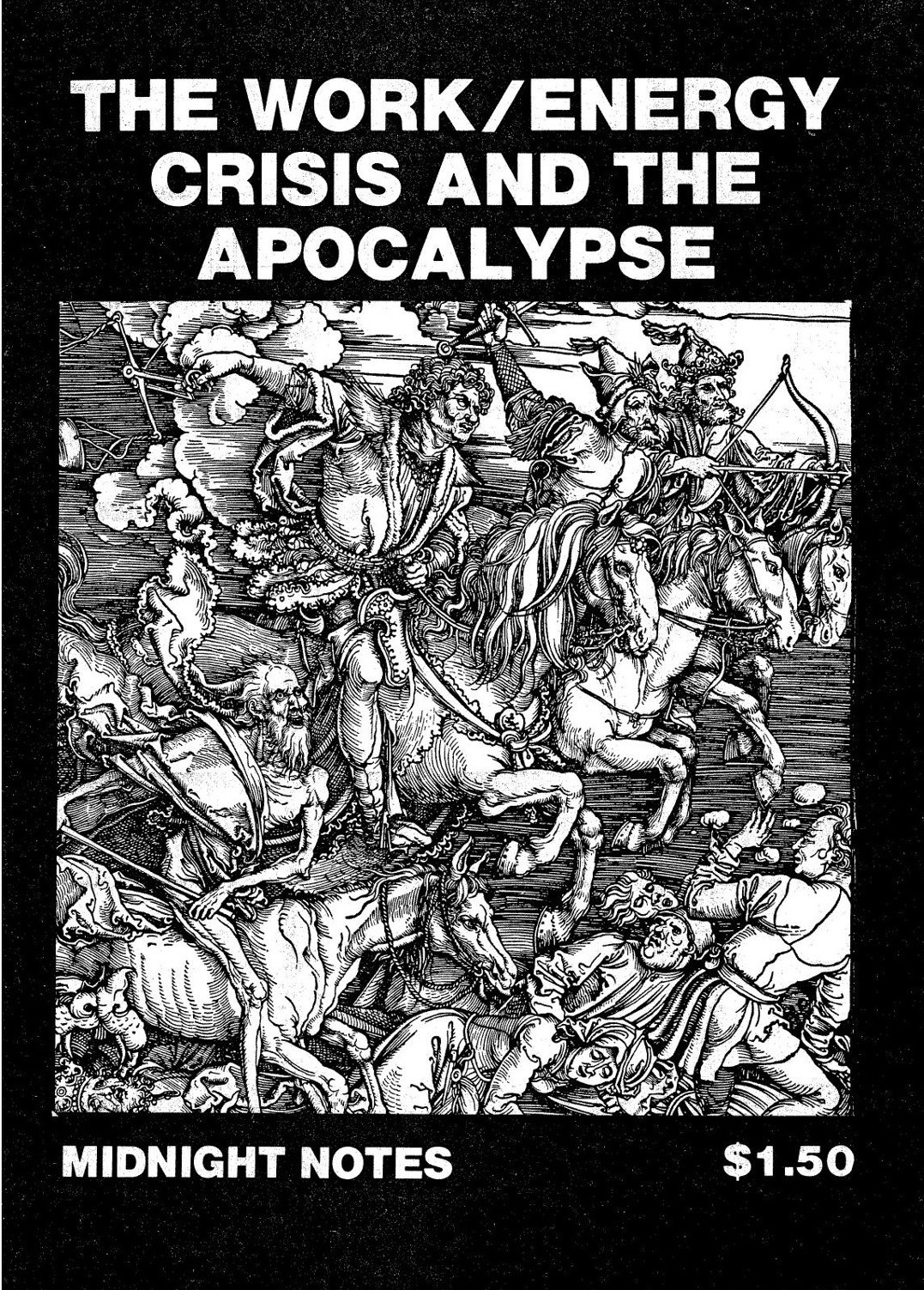 Cover to Midnight Notes No.3 - The Work/Energy Crisis and the Apocalypse (1980)

Yet, rather than revel in defeat, Midnight Notes analysis and graphics also pushed the terrorising threat of capitalist crises onto the back foot by emphasising the agency of the working class to bring about their own apocalypse for capital from below. An early pamphlet Midnight Notes No.2 - No Future Notes: The Work/Energy Crisis and the Anti-Nuclear Movement, (1979), models a map of demonstrations across the territory of the USA as so much 'Anti-Nuclear Small Pox'
.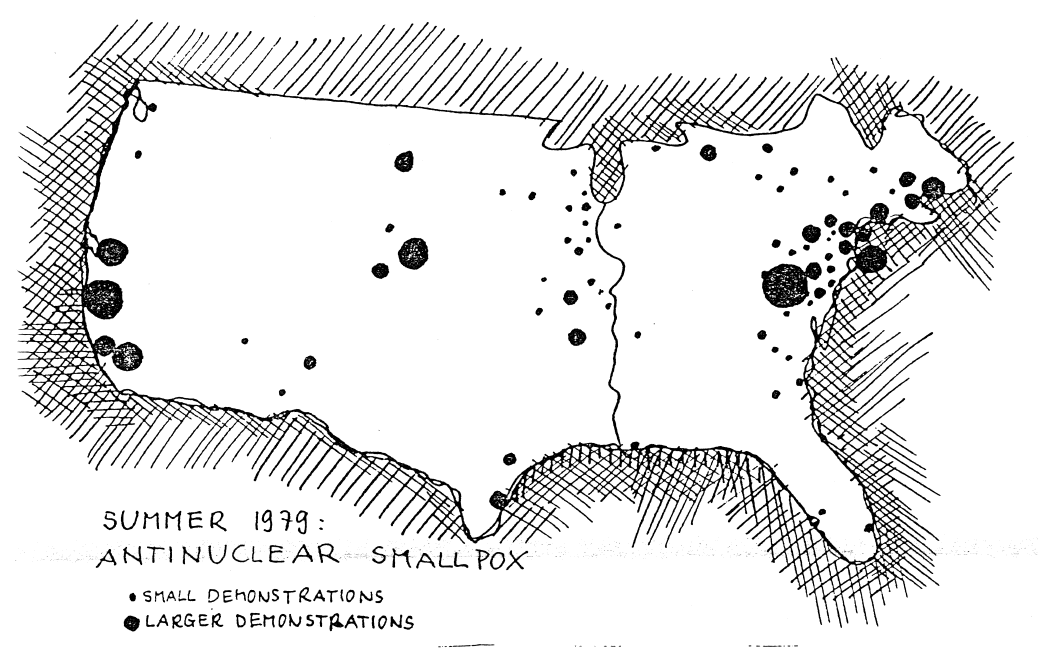 Illustration, 'Summer 1979: Antinuclear Smallpox', Midnight Notes No.2 - No Future Notes: The Work/Energy Crisis and the Anti-Nuclear Movement, (1979)

In a recent podcast interview Midnight Notes member Peter Linebaugh reminds us, pandemics throughout history have been met both by attempts by elites to extend their domination and the people's attempts to resist while surviving. Returning to his seminal pamphlet, Lizard Talk (1989), the noted historian weighs in plagues, from antiquity to Covid 19, https://kpfa.org/episode/against-the-grain-april-8-2020/. Lizard Talk is subtitled: 'An Historical Reprise On the Occasion of the Anniversary of ACT UP Boston'. And in this complex sweep of plagues throughout history Linebaugh seeks to pull together the threads of historical and contemporary resistance into a dynamic account of globally distributed continuous struggle.

"The struggle against sex and racial discrimination, the struggle of workers at our places of employment, the struggle for civil liberties, the struggle for housing, the struggle to chose our own life-style, the expression of solidarity with those struggling in Africa, in Haiti, in the Philippines, and in Latin America, the struggle against medicine-for-profit, the struggle for education, the struggle for prisoners' rights, the struggle against identity papers, the struggle to sleep when, where, and with whomever, the struggle to retain some of the breakthroughs of the 1960s to create our own forms of sociality, the struggle against drug abuse, the struggle for gay liberation, the struggle for women's liberation, the struggle for the environment, the struggle for science for the people, the struggle for sex, and the struggle for safe streets, have gained strength from your vigilance, creativity, and staying power."

Indeed in the context of almost total mismanagement of the Covid-18 pandemic at the state-level in the UK, US, ACT UP's activism around AIDS, sexuality, race, housing and poverty is a powerful resource to return to and learn from, indicating that the very difficulties of caring for the vulnerable whilst both denouncing the state and demanding the expansion of treatment and health measures are not only necessary, but will substantially shape resolution to the pandemic for those at its forefront. Indeed, ACT UP's powerful demands for 'free health care' and appropriate housing provision chime directly with demands we might renew under Covid-18 lockdown

.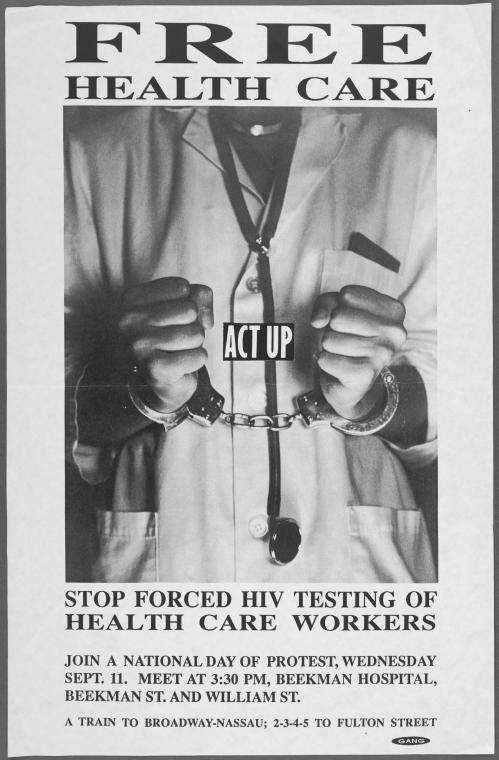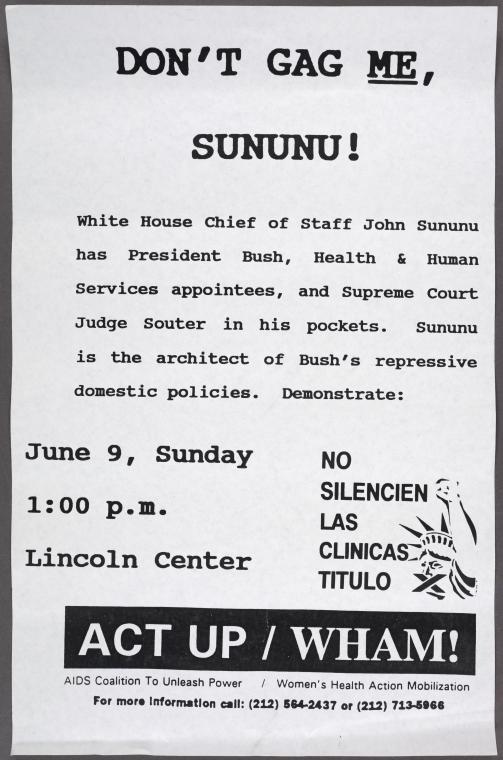 Posters for ACT UP National Day of Protest, 11 September c.1990, and ACT UP/WHAM 9 June, c.1989

As well as celebrating ACT UP Lizard Talk situates the AIDS crisis in a deep historical study of health activism, taking as its jumping off point William H. McNeill's landmark survey, Plagues and Peoples (Doubleday, 1976), Linebaugh reads between the lines and listens to history's 'minor' actors to reconstruct a history in which working class people of colour are at the forefront of struggles to refuse domination from above, recover dignity and impose their own health solutions during crises born of epidemics.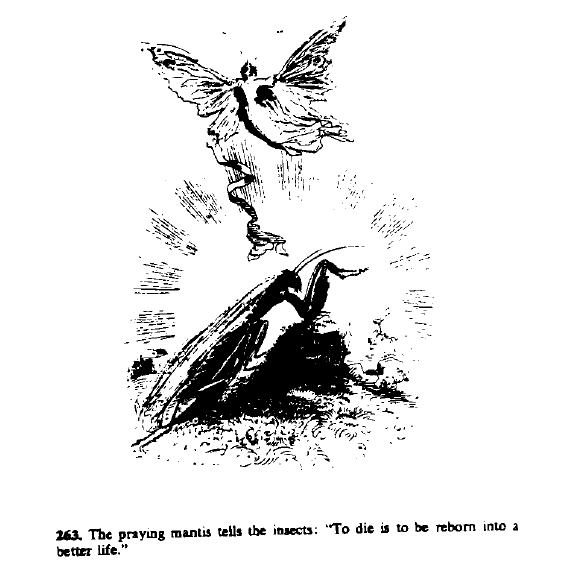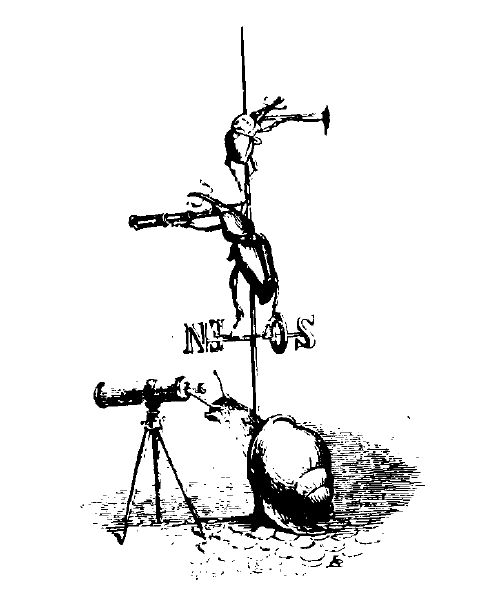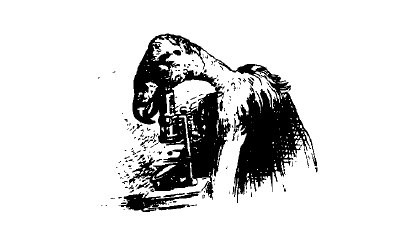 Beastiaries illustrating Midnight Notes No.9.5 – Lizard Talk (1989)
Lizard Talk is humorously and irreverently illustrated throughout, satirising capitalist science, medicine and the sinister inaction of the rich in the face of mass suffering: with images of lizards relaxing pulling on a hookah pipe; a vulture hunched over a microscope; to Danish physician Thomas Bartholin's 17th century engraving of a beaked plague doctor. Yet, these beastial historical figures are not simply fairy tales, but analogues to contemporary personages, capital's experts who seek to manage and direct plague towards those least able to defend themselves. Page 49 mentions one Dr. Anthony Fauci, director of the National Institute of Allergy and Infectious Diseases, announcing 'that the U.S. is planning to conduct largescale human experiments in Africa to test potential AIDS vaccines.' Dr Fauci is today, the US Government's 'top public health expert and a member of the national coronavirus taskforce'
.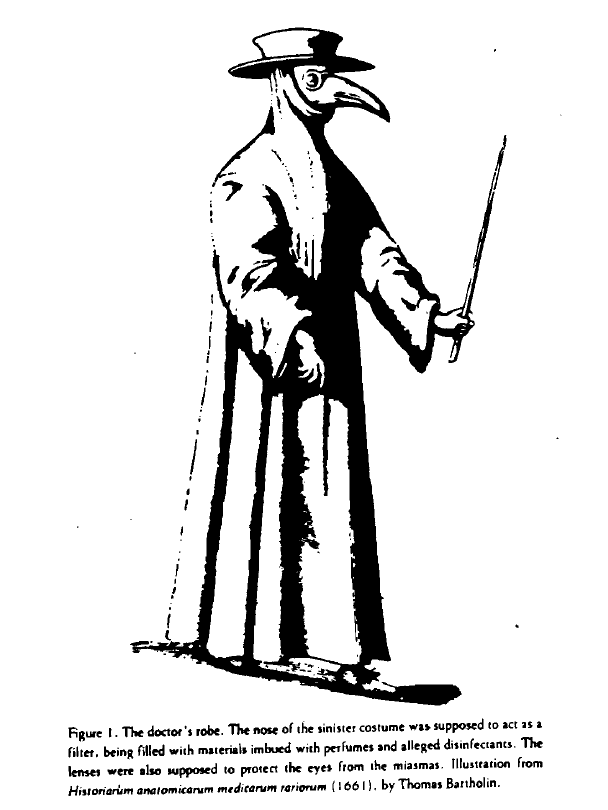 Other information of interest is also brought in to develop a more contemporary reach. Sections of the pamphlet are divided by epigraphs from the annals of criminal and medical research attesting to the barbarity of medical research carried out without consent on prisoners and unknowing members of the public in the US during the 20th century. Several of these, particularly the accounts pertaining to prison, therefore cross over with another radical journal Midnight Notes members Peter Linebaugh and Monty Neill were involved in, NEPA News (the Newsletter of the New England Prisoners Association). A central reason for NEPA's formation was 'to attack the increasingly widespread use on prisoners of certain psychological and medical approaches including, but not limited to, behavior modification, chemo-therapy and psychosurgery.' These were a central threat to NEPA's organising efforts in prison, since the START program was often applied to militants in prison, especially along racialised lines
.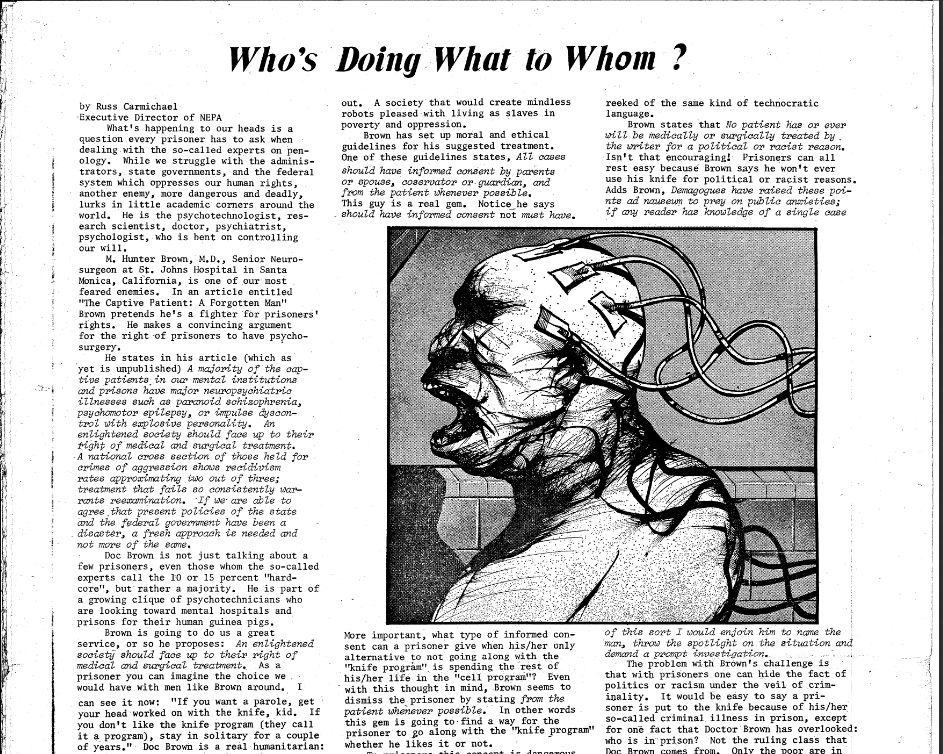 A major article by Monty Neill in NEPA News, Vol.2 No.1 January, 1974, pp.1–6a>, describes START (Special Treatment and Rehabilitation Training), a behaviour modification programme introduced in Illinois and being expanded across other states at that time. The article also details the extensive use of 'tranquilizer drugs', 'therapeutic drug treatment' and 'drug therapy' (prolixin) in prison, the article goes on to deal extensively with non-consenting application of neuro-surgery (surgery, electrodes and radiation). The programme within START is supported by UCLA's Neuropsychiatric Institute. In the same issue Jaan Laaman's article argues against 'special psycho-medical' prisons (p.12) and provides examples of how prison activists can block the introduction of such dangerous pseudo science into the prison context, e.g. The Adirondac Testing and Treatment Center in NY State was shut down due to public and legal pressure in 1974. A feature on Bridgewater Prison (the subject of Frederick Wiseman's film, Titicut Follies, 1967, thereafter banned in the State for 20 years) in NEPA News, Vol.2 No.5, June, 1974, p.13, covers the extensive forced medication, use of tranquilizers: specifically high doses of thorazine, stelazine and Milleril used to dose gay prisoner. `The same feature documents the research by a Dr Lawrence Razavi 'in an effort to prove that potential sexual offenders can be spotted through fingerprint patterns and genetic characteristics' (p.13). NEPA News Volume 2 No.11 'Shutdown Bridgewater' (p.2) features a brief discussion of 'forced medication and experiment' and 'Zombie Juice' (p.5) features a discussion of the side effects of Thorazine and Valium. 'American Cross' p.10 reproduces a letter demanding the harvesting of organs from prisoners in line with reduction of their sentence. 'Ban Guinea Pig Testing' by Flora Haas, p.11 and 18 Identifies prisons and companies active in carrying out medical testing on prisoners
.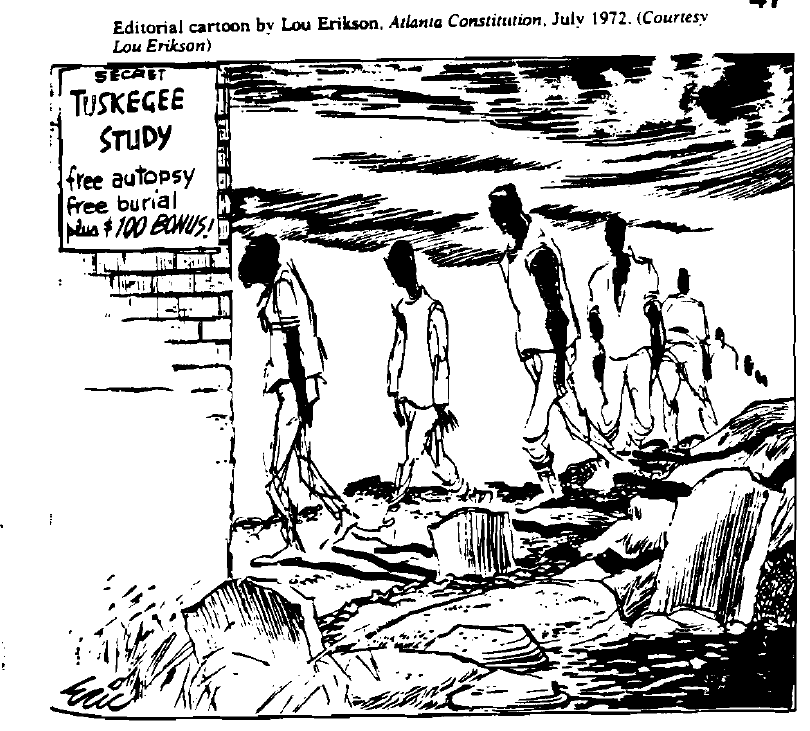 Cartoon satirising the Tuskegee Study of Untreated Syphilis in the Negro Male reproduced in Lizard Talk (1989)

Lizard Talk closes, reflecting on the obscene violence of both medical experimentation and denial of treatment carried out for 40 years under the Tuskegee Study of Untreated Syphilis in the Negro Male, a study which involved actively infecting about 600 Afro-American men and allowing the disease to spread unchecked through the population. Arguing that we must develop 'our own lizard talk against the controlled, selective, and secretive knot-heads who manage our illnesses in the pretence of our health' (p.52) 'We have learned from our history that the more we commingle and converse, the more we eat each others food, sleep with each other, and deal with one another's shit, the stronger we become. We have learned from our history that the microparasites that destroy us appear as godsends to the macroparasites, until they threaten, or until we threaten, to get 'out of control.' We have learned from our history that the macroparasites need us both for their wealth and power and for their health. That is why we developed lizard talk to begin with. They can no longer prod~ce those genocidal microparasites without paying a price of such social disorder that we must take power ourselves for justice's and our own lives' sake.'


Metadata:

Publications: Midnight Notes, NEPA News, ACT UP Reports, Richard C. Chirimuuta; Rosalind J. Chirimuuta, Aids. Africa and Racism, London: Free Association Books, 1989, William H. McNeill, Plagues and Peoples (Doubleday, 1976)
Events: AIDS Crisis, Biblical Plagues, Indian Mutiny, Influenza Pandemic (1918), Covid-19 Pandemic (2020), Spitless Sunday, Tuskegee Study of Untreated Syphilis in the Negro Male
Related People: Peter Linebaugh, Silvia Federici, George Caffentzis, Monty Neill, Zora Neale Hurston, Charles Marks, William H. McNeill, Joachim of Fiore, Abiezer Coppe, Peter Tosh, Bob Marley, Aimé Césaire, Edgar Allan Poe, Robert Graves, Katherine Anne Porter, Fred Gray
Non-Allied People: Norman Longmate, Stephen Jay Gould, Boccaccio, Daniel Defoe, Thucydides, Richard Allen, Absalom Jones, Edwin Chadwick, Thomas Malthus, Charles Rosenberg, Cotton Mather, Mark Twain, Henry Cabot Lodge, Thomas Bartholin (illustrator)
Tactics: Strikes, Revolution, History from Below, Work Refusal, Prison Abolition, Health Activism
Places: The Five Points (New York), Baltimore, Marseille, Bengal, Philadelphia, Boston, Macon County, Alabama, Tuskegee, Haiti.
tags: Covid-19, AIDS, Sans Culottes, Plague, Public Health